Trans Studio Bali - Experience the First Indoor Theme Park in Bali Indonesia | Trans Studio Bali
Trans Studio Bali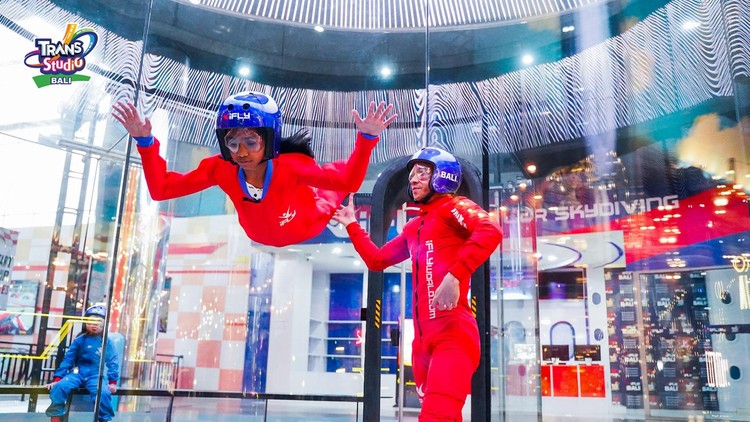 How Much Does iFly Bali Cost?
As part of Trans Studio Bali, iFly Bali is the first indoor skydiving located in Bali. With iFly Bali, you are in the right hand to try gravity fails and feel the sensation of true free-falling conditions. We are making sure that anyone can fly with enjoyment and nothing to be afraid of!
How Much Does iFly Bali Cost?
Through this article, we are glad to answer your frequently asked questions regarding iFly ticket price. The best deals start from IDR 750,000 and you are ready to fly! The price mentioned is for one person, with the time limit for two sessions. 
Don't worry as the professional instructor along with international standard equipment are provided. First, the instructor will be guiding in details on how to fly properly including the hand signs, obligations, as well as terms and conditions. 
After that, put on complete equipment and you are ready to enter the tunnel for free-fall. Prepare to be captivated as we guarantee an exhilarating experience that even first-timers will cherish, as they soar through the tunnel of pure excitement!
Book Your Next Flight! 
We are happy to help you make your dreams come true! Here are the simple steps you can do to book:
1.Come directly to admission Trans Studio Bali (located at 1F Trans Studio Mall, Jalan Imam Bonjol No. 440 Denpasar)
2.Ask freely the ticketing staff for the iFly booking
3.Do transaction and you will got the ticket along with flight slot information
4.Our staff will escort you right to the spot!
So, are you ready to fly with us? Book yours now and embark on an unforgettable indoor skydiving journey!
Share
Choose Your Visit Date!
Please State Your Nationality