Trans Studio Bali - Experience the First Indoor Theme Park in Bali Indonesia | Trans Studio Bali
Trans Studio Bali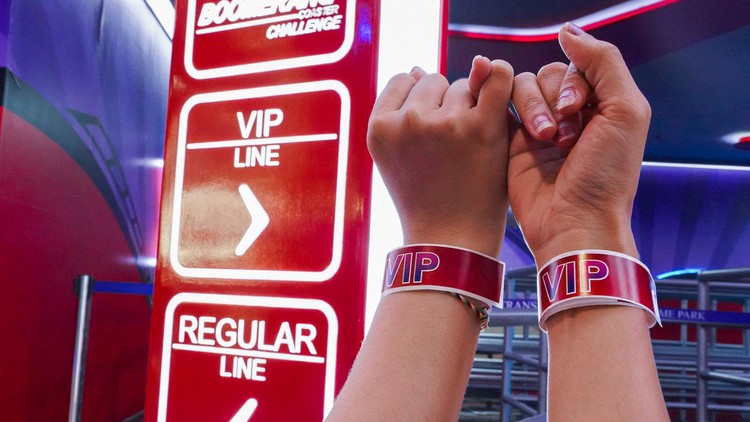 What is Additional VIP Access?
Want to make your holiday in Trans Studio Bali extra special? Especially on peak season, you may cannot wait in a long line just to get on rides with regular access. Hence, the VIP Access is the perfect additional for you!
But before so, here is some information you should know about Additional VIP Access:
Shorter Waiting Time
In almost rides provided, there will be two queue lines which are the regular line and the VIP line. Usually, people who purchase regular ticket will get to enter regular line. But for additional VIP Access, will be allowed to bypass to the VIP line with shorter waiting time. In other words, you will get access to rides faster!
Priority Service
VIP Access service not only offers you to skip the regular queue, but also gives you an opportunity to enjoy exclusive treat from us like ride at the best seat. That could be the best way to make your holiday at Trans Studio Bali more memorable!
The Rides Provided
The rides provided for VIP access are Formula Kart, Boomerang Coaster, Puppet Master Ferris Wheel, Frank House, Flying Over Indonesia, Bat Glider, City of The Dead, Forbidden Temple, Werewolf Hunts, and Road Rage Wasteland Escape. The rides can be played repeatedly and are not limited to operating hours. So much for you to play with!
VIP Access is an Additional Purchase
To get the VIP Access, you have to purchase regular ticket first which you can get at Admission or website Trans Studio Bali. Then, get VIP wristlet by upgrading your ticket to VIP Access with the additional price IDR 250,000 per person.
We hope this information can help you to complete your holiday experience at Trans Studio Bali! Book yours now and let's have fun with us!
Share
Choose Your Visit Date!
Please State Your Nationality