Trans Studio Bali - Experience the First Indoor Theme Park in Bali Indonesia | Trans Studio Bali
Trans Studio Bali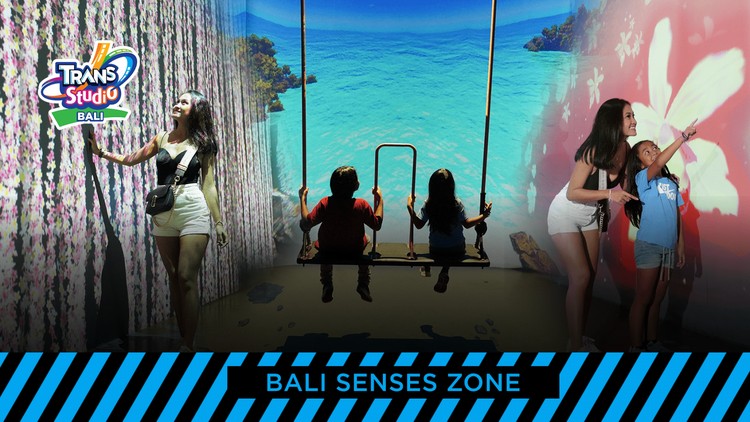 Learn about the Bali Natures through Bali Senses
Known as the Island of Paradise, Bali appeals through its sheer natural beauty. At Trans Studio Bali, you can explore Bali through the vision of "Bali Senses". This digital art technology lets you immerse yourself in Bali nature, featuring enchanting and vibrant scenes to bring out the best of Bali's natural beauty.
The Fusion of Natures
Are you ready to get immersed with all the fusion of enchanting beauties from Bali natures? Feel and hear the glorious sensation as you interact with the natures, scent of flowers and the majestic birds, everytime you touch it.
Shine brighter as you step on your feets above the exotic flowers petals that moves along with you.
The Sacred Waterfall
Deep rooted with its traditional culture, Barong and Rangda known as the magical and spiritual creature of Bali. Barong known as the symbol of spiritual protector, while Rangda is the symbol of evil force in the mythology of Bali. Moreover, find a peace as you surrounded by magical-fishes in the circle of lights!
Bali Swing
No need to travel far to experience the swings in the nature. On Bali Senses, feel the breeze of the Ubud scenery and Nusa Penida ocean cliff as you swing and get drawn in the digital sensations.
Instagram Dome
Explore the ultimate galaxy as you step on the other side of the universe and take your best selfie on it!
Dessert Experience
Experience the real sensation of delicacy as you interact with the digital art shows provided at your table, with a mesmerized sunset view at the beach of Bali.
Alluring Balinese Dance
Once you enter this area, Balinese dancers will welcome and interact with you. Together they are joining the perfect amalgamations of technology and colors, along with translucent hologram that fascinate you to the beauty of Bali.
Bali Senses can be experienced once you purchase the entrance ticket. Get yours now on the website!
Share
Choose Your Visit Date!
Please State Your Nationality