Trans Studio Bali - Experience the First Indoor Theme Park in Bali Indonesia | Trans Studio Bali
Trans Studio Bali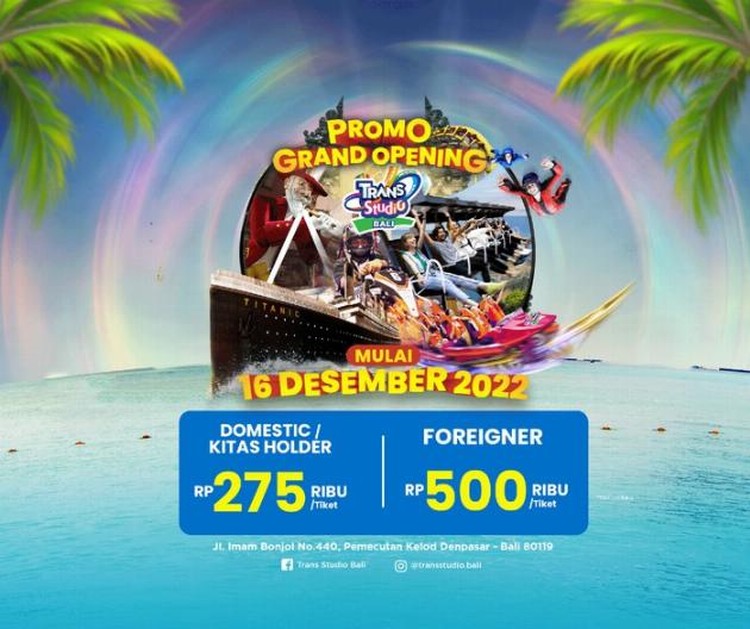 Are You Ready for The Grand Opening of Trans Studio Bali?
Trans Studio Bali gladly announce the grand opening start from December 16, 2022. This world-class indoor theme park is located on the top floor of Trans Studio Mall, Jalan Imam Bonjol No 440 Denpasar. There will be special deals, spectacular rides and attractions that are definitely worth the wait. Are you ready to experience all the fun with us?
The Spectacular Rides and Attraction
Inside Trans Studio Bali, each area is divided into 5 zones, which are Action Zone, Camera Zone, Culture Zone, Port of Liverpool, dan Adventure Zone. On Adventure Zone, you can face the thrilling missions from entering zombies world, the werewolves hunts, to wander into the Road Rage Wasteland Escape.
Craving something more challenging? The rides on Camera Zone might be your cup of tea. Pump up your adrenaline on a world-class roller coaster ride on top of building, or try the indoor sky diving at the IFly. More exclusive, experience also a virtual journey to Indonesia archipelago on Culture Zone through Flying Over Indonesia. So many excitements that you can only feel at Trans Studio Bali!
Admission Price
Now that you already imagines all the rides, you might be expecting for the special deals. So, here is the good news for you!
To cherish the grand opening celebration, we offer special deals for overseas visitor which is IDR 500,000/adult and IDR 350,000/child 0-7 years old. There are also a special prices provided for Indonesian ID or KITAS holder, which is IDR 275,000/adult and IDR 150,000/child 1-7 years old. And more special for you who have Bali ID (KTP Bali), you will get only IDR 150,000 for adult or child (offline purchase only). The admission tickets already includes unlimited access to all rides (except for Ifly). More benefits unlocked is a 10% OFF for you Allo Prime or Bank Mega users!
Still implementing with health protocols, let's get ready to play at Trans Studio Bali! Book now here!
Share
Choose Your Visit Date!
Please State Your Nationality