Trans Studio Bali - Experience the First Indoor Theme Park in Bali Indonesia | Trans Studio Bali
Trans Studio Bali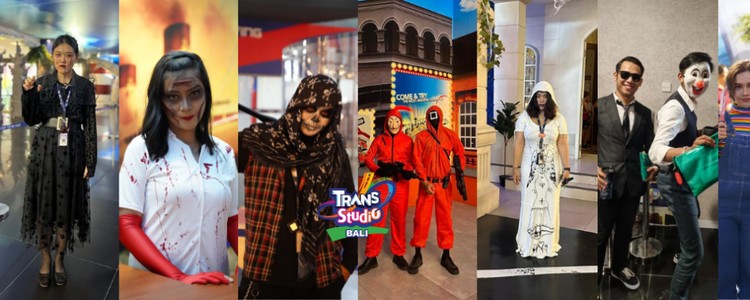 The Spookiest Halloween Costume Party at Trans Studio Bali
On October 29th, Trans Studio Bali turned into a very strange atmosphere where many scary figures roamed around the park. From the murderers, ghosts, vampires, angels of death, to fictional characters that haunt the entire area.
Are you still able to play the rides happily after convincing what you see in front of you? Well, this is part of Halloween in Spooktacular Land at Trans Studio Bali theme park!
This event, which runs from 20 October to 5 November 2023, presents various fun and spooky activities. Its including a Halloween special show highlighting the character of a Wednesday girl, candy giving through trick or treat, spooky face painting, special Halloween rides "Mystery to the Afterlife" and "The Ancient Ram Inn", and Spooky Costume Competition.
Now, let's talk according to the title where everybody, including the visitors and also staffs joining the spookiest costume party on October 29th. Adults freely take the photos at many Instagrammable photo spots that match their spooky costumes, or roaming around to meet another more spooky characters. While the children run around carrying pumpkin bags asking for treats with scary faces make you shudder but also amazed. Everyone's really has spooktacular vibes!
What else is missing, when you come with a real Halloween atmosphere as well can try 16 world-class rides, watching 5 spectacular shows, and everything mentioned above? Don't miss out the most unforgettable moment only at Trans Studio Bali! Book the tickets now on the website!
Share
Choose Your Visit Date!
Please State Your Nationality