Trans Studio Bali - Experience the First Indoor Theme Park in Bali Indonesia | Trans Studio Bali
Trans Studio Bali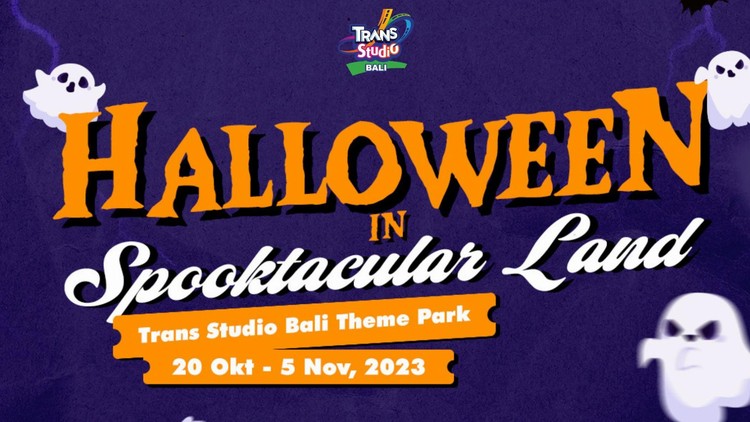 Trans Studio Bali Presents Halloween in Spooktacular Land!
The spookiest season is coming this October! Trans Studio Bali Themepark prepare the most haunting event for the brave souls through "Halloween in Spooktacular Land".
Start from 20th October to 5th November 2023, there will be lots of spooky decorations, costume competitions, special rides, special shows and much more. Get ready to feel a memorable atmosphere, where this "Spooktakular" experience won't be found anywhere other than Trans Studio Bali!
HALLOWEEN COSTUME COMPETITION
Halloween is incomplete without scary make-up and eerie costumes. Likewise at Trans Studio Bali, the park present Halloween Costume Competition specifically for children. No worries as for adults, don't be hesitate to celebrate Halloween as well at the park with your scary costumes. Go around while get on rides with your spooky makeup on. Join now by register through Whatsapp: +62 859-4515-1662 (Sayni).
SPECIAL RIDES
Special rides might be the highlight of the event reminding it's only exist on Halloween season. Trans Studio Bali presents the original experience where visitor would feel the darkest parts of hell while solving the mystery through "Mystery to the Afterlife". For the youngest visitors, "The Ancient Ram Inn" is perfect match to try as they must collect the hidden clue inside the haunted house. There will be a prize waiting as visitors finish the journey!
TRICK OR TREAT + FACE PAINTING (Additional)
Experience the fun side of a Halloween party by asking the cast members for candy around the park. Visitors will get a pumpkin bucket to collect all the candies. Fun n Horror themed face painting also provided according to request or images available. However, this activity is additional charge so make sure to ask for it at the ticketing counter!
HALLOWEEN BEST DEALS
Get best deals ticket where everything is included such as Halloween special rides, all world-class rides (except iFly), shows and attractions. Book Halloween best deals ticket through website only on 20th October until 5th November 2023!
Share
Choose Your Visit Date!
Please State Your Nationality